Why modelling the pulmonary ventilation ?
Music, exercise and medicine.
IESC Cargèse, 18th to 22nd November 2019
What is it?
VentiCorse is a school/workshop about lung's ventilation organised by the Vader Center (IDEX UCA Jedi initiative). The goal of this event is to present how lung's modeling can help to understand lung's functions, with three specific domains of application: medicine, physical exercise and music. This interdisciplinary school will focus on lungs patho-physiology, lungs functional exploration methods and lungs mathematical modeling. One of our goal is to show that the analysis of data from experimental work often benefit from modeling approaches. The school will be divided into a series of lectures and several workshops where the participants will be able to manipulate experimental setups.
Poster sessions for participants will be organised on the evenings.
Where is it?
In the Institut d'Etudes Scientifiques de Cargèse, Corsica, France.
When is it?
From the 18th November to the 22nd November (notice that the school starts in early morning of the 18th, so it is best if you arrive on the 17th).
What is the planning of the lectures?
See the program below and for some abstracts (at least the one received) see the program by clicking here.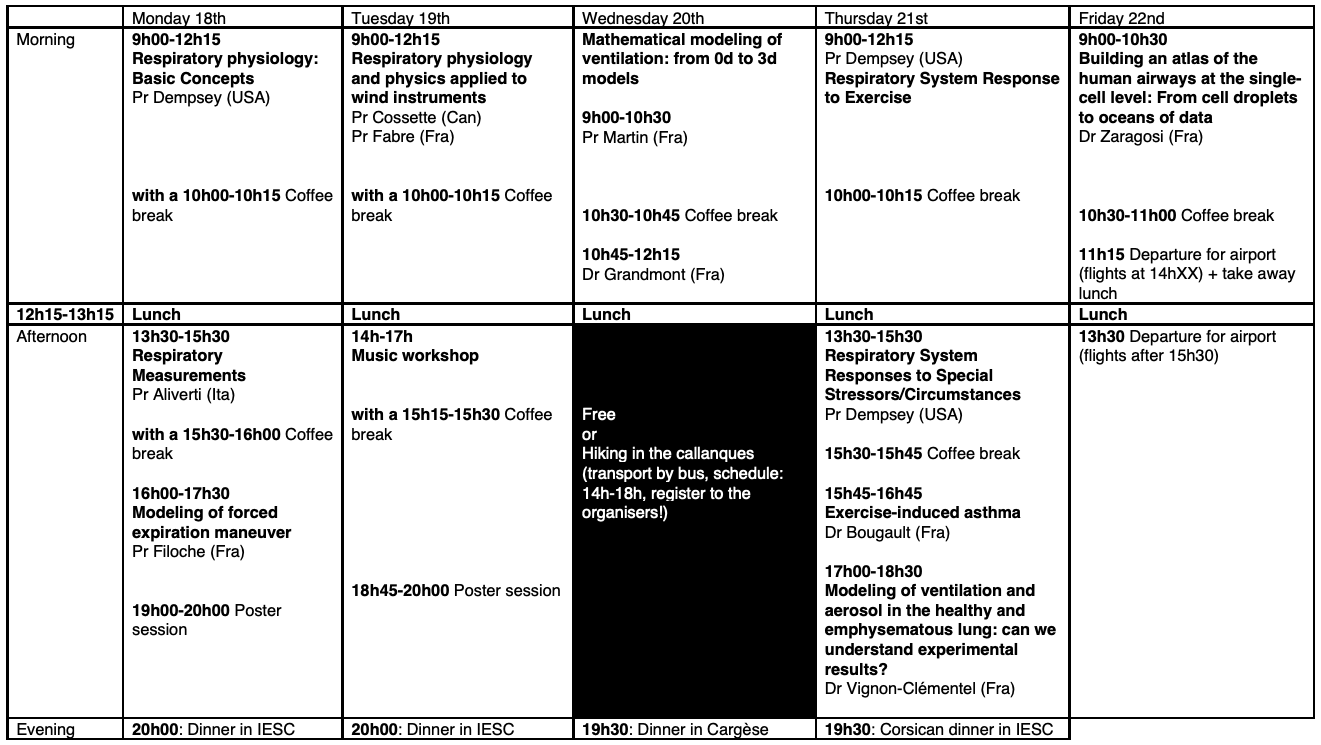 How can I register and what about other venue information?
Registration is free and very simple : please send an email to mauroy@unice.fr to ask for a registration with your name, affiliation and schedules of arrival and departure.
A group transport from Ajaccio airport will be organised on Sunday 17th of November at about 7pm and on Friday 22nd of November at about 12am. In case of late arrivals or early departure, let us know so a taxi can be booked for you.
Lodgings are available on site in the conference center and will be automatically delivered with any registration at no cost for the participant (in the limit of the rooms available).
Some financial support for transports to Cargèse can also be accorded if needed.
Who are the organisers?
Grégory Blain (LAMHESS, Côte d'Azur University, Fr), Valérie Bougault (LAMHESS, Côte d'Azur University, Fr), Olivier Legrand (INPHYNI, Côte d'Azur University, Fr) and Benjamin Mauroy (LJAD, Côte d'Azur University, Fr).
All are very active members of the VADER Center!
Who supports this conference?